GENERAL INFORMATION FOR THE AROMASOURCE PREMAIR ULTRASONIC DIFFUSER
Brown ceramic with a copper metallic mesh cover.
Small to medium size rooms up to 250 sq. ft.
Diffuser and Bluetooth speaker Can be controlled with a phone app.
Mood setting light options – multi-colored, rotating, freeze, white off.
Safety shut off when the diffuser runs out of water.  Also shuts the light off.
Powered by an AC adapter – included.
The AromaSource PremAir diffuser features an 8.4 oz. (250 ml) water tank capable of providing up to 12 hours of cleansing aromatherapy and wonderful aromas when used with high quality essential oils. 
Bluetooth aromatherapy diffuser with led lights.  Play some relaxing music from any Bluetooth capable device such as a phone or tablet with the built in Bluetooth speaker.
You can also download an app to control the diffuser, control alarms to turn it on, create a misting schedule, change colors, change mist intensity, etc.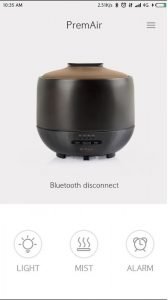 Android users: https://m.apkpure.com/aroma-source/com.chipsguide.app.aroma or https://steprimo.com/android/us/app/com.chipsguide.app.aromatwo/Aroma-Source/
Apple users:  https://apps.apple.com/us/app/aroma-source/id1271017045
Feel free to use regular tap water, although we suggest you use distilled water. 
Just add water, and 8-12 drops of your favorite essential oil and enjoy the wonderful aromas.
This contemporary Aromasource PremAir Diffuser utilizes high frequency vibrations to create an ultra-fine mist.
No heat is involved which means there are no risks of burns and the cool operation maintains the aromatherapy qualities of the essential oil being used. 
Other than occasional gurgling sounds, the diffuser runs very quietly. 
Very easy to clean. 
First remove the top cover. 
Once the actual diffuser is revealed, just remove the water tank cover. 
Clean the inside with hot water and you are good to go. 
Using vinegar can help remove some of the smells from the previous oils that were used. Better yet, using SpaRoom Klenzor tablets can be used once a week to renew the diffuser to like-new condition.

The Aromasource PremAir diffuser includes a Bluetooth speaker that can be controlled from an Android or Apple app.  Keep in mind the Bluetooth speaker output is not very loud and does not have a whole lot of bass.   But for playing some relaxing sounds while diffusing, this is the perfect combination.
THE AROMASOURCE PREMAIR DIFFUSER WITH BLUETOOTH SPEAKER IS MADE FROM PREMIUM QUALITY MATERIALS: 
Unlike less expensive diffusers, the plastic used in the AromaSource PremAir diffuser is made from high grade medical plastic (polypropylene). 
What does this mean for you? 
This means the PremAir is Eco-friendly and BPA free. 
BPA has possible health affects on the brain, behavior, and prostate glands of fetuses, infants, and children. 
Research suggests BPA can increase blood pressure. 
Safe to use with the young, old, and everyone in between. 
This Sparoom diffuser is manufactured in state-of-the-art facilities that follows very strict guidelines.
Aromasource and Sparoom are a brand trademarked by Unitrex, Ltd. in Bedford Heights, OH, 44128.
Are you just getting started in the Diffuser world?  We have two articles you may want to read that will give you a summary about diffusers and essential oils: