GENERAL INFORMATION FOR THE SPAROOM MOTION ACTIVATED EMOTION DIFFUSER
5 Minute Run Cycle – 15 , 30 , 60 Seconds
Standby & Motion Triggered Features
Medium Room Size
Uses a 10 mL Essential Oil Bottle
Automatic safety shut off
USB Cord Powered Or 3 AA Battery Powered
Motion activated essential oil diffuser and air freshener is perfect for bathrooms foyers, or anywhere else people frequent
The waterless Sparoom eMotion diffuser creates an extremely fragrant ultrasonic mist without water.  Instead, you diffuse the essential oil directly from a 10 ml bottle.  You insert an absorption rod into the oil bottle and then place the bottle back inside the diffuser.  Then turn on the diffuser and let it do its magic.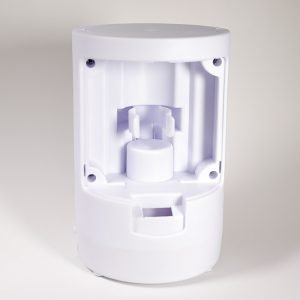 Once the diffuser senses movement, it will activate.   The diffuser will spray an ultrasonic mist of pure essential oil for 5 minutes at intervals of either 15, 30, or 60 seconds.
The benefit is a powerful blast of the aroma of your undiluted essential oil.  After the 5 minutes are up, the diffuser will go into standby mode until it once again senses movement.
The detectable motion sensor range is 9 feet at a 120 degree angle.
Another huge benefit is you do not need to worry about cleaning a water tank.
Coverage area is up to 200 feet.
Included is 5 unscented absorbing rods and 1 plastic holder for the essential oil bottle.
Standing only 5 inches tall, and about 3 inches wide, the eMotion diffuser does not take up much space.  Plus, with its mounting hole, you can actually mount it to your wall. 
Please Note:
Diffuser includes a mounting hole but mounting brackets are not included.  We recommend using COMMAND hooks to mount the diffuser to the wall.
Replace Absorbing Rod when changing fragrance or after extended use.
THE SPAROOM eMotion DIFFUSER IS MADE FROM PREMIUM QUALITY MATERIALS: 
Unlike less expensive diffusers, the plastic used in the Sparoom eMotion diffuser is made from high grade medical plastic (polypropylene). 
What does this mean for you? 
This means the eMotion is Eco-friendly and BPA free. 
BPA has possible health affects on the brain, behavior, and prostate glands of fetuses, infants, and children.
Research suggests BPA can increase blood pressure. 
Safe to use with the young, old, and everyone in between.
This Sparoom diffuser is manufactured in state-of-the-art facilities that follows very strict guidelines.
Aromasource and Sparoom are a brand trademarked by Unitrex, Ltd. in Bedford Heights, OH, 44128.
Are you just getting started in the Diffuser world?  We have two articles you may want to read that will give you a summary about diffusers and essential oils: