When you make a purchase through our links, we may earn commissions from Amazon and other retailers. You can learn more about our affiliate and privacy policy here.
Updated May 2022.
After experimenting with a variety of essential oil diffusers in the bathroom, I decided to write this post and share with you why I discovered the best type of diffusers to use in the bathroom are fan-based diffusers and nebulizing diffusers. 
Fan-based and nebulizing essential oil diffusers are easy to maintain, quiet, and many of them can run off a battery instead of house current.
Running off a battery makes them far more portable compared to ultrasonic diffusers that require electricity. 
Most of them are also smaller than your typical ultrasonic diffuser, making them easy to place in cramped areas such as on a window seal. 
Since they don't use water, you do not need to worry about constantly refilling the water tank.
Many of them also give off some light, which may be a positive thing if you are trying to set a romantic mood in your bathroom, or if you need a night light that is not very bright. 
Most fan-based diffusers only need a few drops of your favorite essential oil but can last from a few hours to all day.  Purchasing a fan-based diffuser is typically much less expensive compared to its ultrasonic counterparts.  The only real drawback would be that they typically use some type of absorbent pad that needs to be replaced periodically. 
Nebulizing diffusers typically use an essential oil bottle and will last a long time, especially when used in their low settings.  You can expect one of these types of diffusers to last several months per bottle.
Using a fan or nebulizing diffuser as an air freshener is a much safer alternative compared to using "those sprays", or candles.  Using a fan-based diffuser means you are using nothing more than natural essential oils with no harsh chemicals or petroleum-based products added. 
DISCLAIMER:
Information provided in this description is for educational purposes only.  For possible treatments of physical or mental diseases, please seek a trained and licensed health professional.  Enchanted Aromatics is not responsible for any adverse side effects resulting from the use of any suggestions, products, preparations, or procedures mentioned or from following historical uses of essential oils.
The Hunt For The Best Bathroom Diffuser
I love diffusers.  I first got introduced to essential oils over 25 years ago while working at a health food store.  Back then, there were only candles and electric diffusers.  Then when ultrasonic diffusers came around, I was hooked. 
We now have 5 diffusers in our house.  They make the house smell so refreshing.  Guests comment about the nice uplifting "homey" smell.  Before using the diffusers, we were using the typical spray fragrances in a can.  Those harsh chemicals were flaring up my asthma.  Now that I use essential oils, my asthma rarely flares up from those aromatic smells (although lavender does sometimes flare up my asthma).
But when it comes to the bathroom, I had a problem.  One, as we all know, the bathroom is one of the more difficult places to keep fresh because, well, it can be a smelly place. 
While an ultrasonic diffuser will work fine in the bathroom, I did not have a good place to place it in my shower room because the diffuser was too big.  That room bathroom has a small shower, a toilet, and not much room for anything else.  Plus, I find that I am lazy.  I would sit down and do my thing and reach to turn on the diffuser to discover that it was out of water.  I was too lazy to take the diffuser to the sink and re-fill it with water or to bring water to the diffuser.
I found there are several solutions to this problem.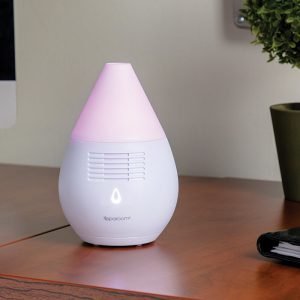 The first solution was my fan-based Scentifier Diffuser by SpaRoom.  It uses a small absorbent pad that I place a few drops of essential oil on and then it is good to go.  It uses rechargeable batteries, so I do not need to worry about having a cable running all over the place.  That shower room does not have an electrical outlet, so it would be inconvenient to run a power cable. 
This diffuser is small enough that we can keep it up on the window seal.  We are always changing the essential oils that we use in that diffuser to get a variety of interesting aromas. Now when we go in there to do our thing, we just reach up to turn it on or place a few drops of essential oil on the pad.  It takes all of 15 seconds.  So, it solved my lazy problem. 
The only maintenance it requires is to occasionally clean or change out the absorbent pad, and of course, replace the batteries with a fresh set.  We use rechargeable batteries, so we always have a set charged and ready to go.  But really, any fan-based diffuser should work just fine in your bathroom. 
Plus, this is a good solution if you are having guests over.  Just throw a nice smelling essential oil in your diffuser, and it should help keep your bathroom smelling fresh.  If you need to, depending on the essential oil that you are using, just add a few more drops every few hours.  If the diffuser is the type that plugs into the wall, you could get a smart plug for it.  Then program it to turn off and on for 15 minutes at a time.  That would stretch out the time the aroma lasts.
Another great alternative is to use a small nebulizing diffuser.  With this type of diffuser, you typically attach an essential oil bottle directly to the diffuser, and then it will atomize the oil without the need for water. 
Since you are receiving the aroma directly from the essential oil, these types of diffusers will give off the most powerful aroma.
Some of these types of diffusers need to be plugged into a wall socket while others can be battery operated. 
Here are a couple of examples of these types of diffusers.
This

XEPTLE w

aterless professional-grade nebulizing diffuser is battery operated.  It has a 1/2/4/8 automatic shut-off timer and three mist modes.

In low mode, it will use about .07 ml of essential oil per hour.

This diffuser uses 15 ml bottles, which means on low mode, you should get about 214 hours of usage per bottle.  
This GuruNanda waterless nebulizing diffuser plugs into a nearby electrical outlet.  It can be set to mist every 5 or 10 minutes.  After spreading the scent for 8 hours, it will sleep for 16 hours.

This diffuser uses 10 ml, 15 ml, or 30 ml bottles.

Best part – you get 3 in the pack.
Anyway, now that we use a fan-based diffuser in our bathroom, we do not need to worry about those harsh chemicals that were in our spray cans. 
Usually, after using a spray can, I find it is difficult to breathe if you stay in that area.  Ever wonder why? 
Ingredients Of Spray Can-Based Air Fresheners
Have you ever read the ingredients to those air freshener sprays?  They are all not the same, but I recently purchased one such popular spray can that is sold in many grocery stores.  The can said it was an "Apple Cinnamon Medley".  The label prominently displayed the words "Essential Oils".  The ingredients consisted of 7 components: 
Water
Ethanol
Isotridecanol Ethoxylated
Compressed Air
Sodium Borate
Fragrance
Benzisothiazolinone
Let us look at some of these ingredients a little more closely.
Ethanol – It is used to help blend the other ingredients.  It also helps diffuse the aroma much quicker.  Do you really want to be breathing in ethanol? 
Isotridecanol Ethoxylated – This is typically used as a cleaning agent.  This substance is known to harm aquatic life, can cause serious eye damage, is harmful if swallowed, and causes skin irritation.  Yet you spray this in a small confined area such as a bathroom and then breathe it in and get it on your skin. 
Sodium Borate – This is a toxic mineral used in cleaners such as toilet bowl cleaners, laundry detergents, stain removers, herbicides, and some personal care products.  It causes fertility damage, harms fetuses, causes hormone disruption, skin problems, damage to the male reproductive system, and respiratory issues.
Fragrance – Several things pop out to me.  First, there is no essential oil listed in the ingredients.  Yes, they mention fragrance, but fragrances are typically created in a lab using various chemicals.  For example, you can purchase rose oil fragrance for about $4.99 an ounce.  You may think this is the same as rose essential oil until you check the prices of actual rose essential oil and discover it costs several hundred dollars an ounce.  Why?  Because it takes tens of thousands of rose petals to make an ounce of rose essential oil.  So, if someone is selling you what they call rose essential oil for a few dollars, they are lying.
Benzisothiazolinone – This is used as a preservative in paints, caulks, varnishes, adhesives, inks, photographic processing solutions, laundry detergents, stain removers, and apparently, air fresheners in a can.  This product can cause skin sensitization and allergic contact dermatitis via airborne contact.  Yet, it is used in an air freshener that you will typically use in a bathroom. 
So next time you use one of these sprays, think about what those difficult-to-pronounce ingredients really are. 
What About Scented Candles?
Yes, candles smell good and they can be romantic.  But you are dealing with an open flame, so they are inherently dangerous.  In the United States, the wicks use to contain Lead.  But in 2003, the U.S. Consumer Product Safety Commission (CPSC) banned the sale of wicks in the United States that contain Lead. 
Most candles are made from paraffin wax, which is a petroleum-based product.  It is a by-product of making gasoline.  Burning a paraffin wax candle can release substances, including toluene, which can be harmful to your health.
Toluene is usually used in the manufacturing process of paint thinners, permanent markers, contact cement, glue, and paraffin wax.  Studies have shown that this substance can cause neurological harm. 
Inhalation in small to moderate quantities can cause tiredness, lightheadedness, confusion, weakness, memory loss, nausea, loss of appetite, hearing loss, color vision loss, and a drunken state.   Because it can cause an intoxicating effect, it can be abused as a recreational drug by sniffing products that contain it such as paint thinner, contact cement, model glue, etc.
Are Fan Diffusers Expensive to Operate?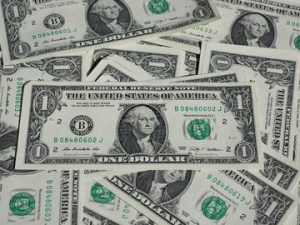 That depends on what you consider to be expensive, but in reality, they are not.  You can pick up a fan-based diffuser for $20 – $40 bucks.  You can buy some extra absorbent pads for a few dollars.  These should last for many months. 
Then there is the cost of the essential oil.  Some oils are more expensive than others.  Let us take a typical essential oil that you may want to use in the bathroom – Lemon. 
You can pick up a 10 ml bottle of pure Lemon essential oil for around $6.99 – $39.99, depending on the brand. Let us say you decided to purchase the $6.99 10 ml bottle.
A 10ml bottle will provide you with around 190 drops.  That comes out to about $.04 a drop.  You would typically add 3-4 drops in your fan-based diffuser and that should last you about 4 hours.  That comes out to about $.04 an hour.  If you are adding 4 drops each time and it lasts for 4 hours, that will give you about 188 hours of continuous use. 
In our house, we do not usually keep the diffuser running continuously, so it lasts much longer.  From this example, you can see that it is pretty inexpensive and the best part is that you are using a 100% all-natural product, without all the nasty side effects of some of the other products we mentioned. 
Are Nebulizing Diffusers Expensive to Operate?
Not at all.  They are even cheaper to operate compared to fan-based diffusers.  Even if you were to use it every day, you can expect a single bottle of essential oil to last several months.  
Best Scents For The Bathroom
Some essential oils seem to naturally work better in the bathroom.  Here are some of my favorite picks for the bathroom:
Citrus Oils – This includes Lemon lemongrass, orange, bergamot, and grapefruit.
Lavender – This has a kind of fresh, sexy aroma.
Eucalyptus – Because it is so powerful, this is a great essential oil to use for masking "Those" nasty smells.
Peppermint – Has a refreshing, minty aroma.
Geranium – Gives a nice flowery smell to the bathroom.
And of course, these are not the only essential oils.  There are hundreds.  Feel free to experiment, mix them, and best of all just have fun doing it. 
One important thing to be aware of though.  Many essential oils can be hazardous to our four-legged friends.  If you want to learn more about that subject, check out our article called "Essential Oils For Odor Elimination".
So if you are on the fence about purchasing a fan-based diffuser, I would say go for it.  If it does not work out, you can always use it somewhere else in your home.